25 May 2005
An Gorta Mor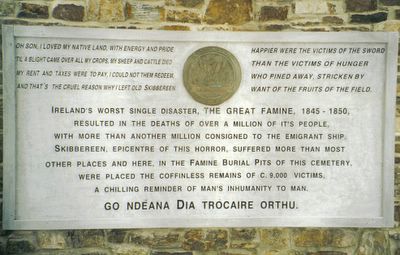 CLICK TO ENLARGE

I'm a history junkie. No, really. I've been obsessed with it for as long as I can remember. But the major addiction started when I was a young teenager, and became infatuated with
Lady Jane Grey
, aka Nine Days Queen. More about her another day...

Right around the same time, my fascination with Irish history began. Since then, I've read numerous books about it, written quite a few papers (thinking of posting one or two, let me know if you'd be interested), and made a few trips there. One subject has always fascinated me--the
Irish Famine
, or in Irish,
An Gorta Mor
.

On my last trip to Ireland, I managed to fulfill a lifelong dream--to visit
Skibbereen
and see the famine graves.
I'm by no means an expert on the famine, just enjoy learning about this era. Brief description follows.

In the Famine of 1845-49, over 1.5 million Irish died of starvation and disease, and another million or so emigrated. Roughly two-thirds of the country was dependent on farming as their sole source of income--almost exclusively the potato. Poverty was prominent and widespread; nearly half of all rural populations lived in one-room, windowless mud cabins.

Half the potato crop failed in 1845 (due to the fungus Phytophthora Infestans), and the potatoes literally rotted as they were pulled from the ground. In 1846 the entire crop failed. The majority of the people, already existing in extreme poverty, were left with no food to eat; accounts of the rural populations existing on boiled nettles and grass were commonplace. The famine continued until 1849 or 1851, depending on which source you read.

What made the famine even more horrible is that it was unnecessary. Enough food was still being produced in Ireland to have fed the population, but it was shipped out of the country to England. I won't go into that debate now though...it can be very controversial, and that's not my point today...
Skibbereen was one of the hardest hit by the famine. In Abbeystrowy cemetary just outside the town, there is an empty field the size of a football pitch. The field is the mass grave of over 9,000 famine dead, many of whom were children.
My child in front of the mass graves

So why this post today? I woke up this morning with the following song stuck in my head (no idea why, maybe a dream I don't remember?), and just couldn't get past it. This song always makes me want to cry, and I thought I'd share it...
Oh, Father dear, I oft times hear you talk of Erin's Isle,
Her lofty scene, her valleys green, her mountains rude and wild
They say it is a pretty place wherein a prince might dwell,
Oh, why did you abandon it, the reason to me tell?

Oh, son I loved my native land with energy and pride
'Til a blight came over on my crops, my sheep and cattle died,
The rent and taxes were so high, I could not them redeem,
And that's the cruel reason why I left old Skibbereen.

Oh, It's well I do remember that bleak December day,
The landlord and the sheriff came to drive us all away
They set my roof on fire with their demon yellow spleen
And that's another reason why I left old Skibbereen.

Your mother too, God rest her soul, fell on the snowy ground,
She fainted in her anguish seeing the desolation round.
She never rose but passed away from life to mortal dream,
She found a quiet grave, my boy, in dear old Skibbereen.

And you were only two years old and feeble was your frame,
I could not leave you with your friends, you bore your father's name,
I wrapped you in my cóta mór in the dead of night unseen
I heaved a sigh and said goodbye to dear old Skibbereen
posted by Julie at
1:37 PM